Are your processes broken, disjointed, siloed or do they result in lots of rework?

Are your projects going over budget or not delivering the benefits they should?

Are you looking to implement a wine or agriculture system or need help with your existing system?

If you answered yes to any of these, give us a call and let us see how we can help you.

CONTINUOUS IMPROVEMENT & BUSINESS PROCESS
With increasing labor costs, new regulations coming every day,  and new farming and wine making technologies and techniques available, mergers, acquisitions, divergers, and organization changes, it doesn't take long for processes to become inefficient.
With a methodology based on Lean, we can help you implement a program and culture of Continuous Improvement across your operations. Our goal is to help your teams work safer, better and do what they do well, easier.
Sick of talking to consultants who don't know a grape from an olive, veraison from bud-break, pre-emergent from post-emergent, brix from acid? Are your teams tired of explaining that no, farming and winemaking aren't manufacturing processes, they have variable and changing inputs, which are often outside of their control, and the outcomes can vary day-by-day, let alone year by year. We know wine and agriculture and we know JD Edwards; let us help you implement JDE the right way, the first time.
NuTrax™ for Wine and NuTrax™ for Agriculture are industry solution built for the Wine & Beverage and Agriculture industries.
The solutions are built on next generation SaaS + PaaS application technologies with accelerators and pre-configurations that jump start your next strategic Enterprise Grade Wine & Beverage and Agriculture applications move.
The IT world is changing every day. If your company doesn't have the resources to manage your technology investment, has disgruntled staff because of inadequate systems or is wanting to embark on new systems, let us help you. From strategic plans and reviews to project and change management, we can bring our expertise and experience to help you focus on your expertise. We have years of experience in C-Level and Senior Management in wine and agricultural IT and business roles to bring a relevant and broad perspective to help solve your problems.
WHAT MAKES US UNIQUE? OUR APPROACH
We are not system implementers. We are solution implementers dedicated solely to serving Wine and Agriculture.
We deliver solutions that are grounded in people, processes and systems. Everything we do is anchored in understanding these three aspects of your business in order to design and implement the solutions you need to solve your business problems.
We recognize that any project is actually a change initiative, and that success requires a strategy to manage the change, minimizing the risks and maximizing the benefits.
We know how to ask the questions so you can better understand the problem you are trying to solve as well as your options.

NuVerge is proud to announce a strategic alliance and reseller agreement with Azmera. Azmera is a management and systems solution provider dedicated solely to serving the Wine and Agriculture industries.
Read More »
They say first impressions last, and that seems never truer than when it comes to the impressions of the JD Edwards Blend module. Issues and
Read More »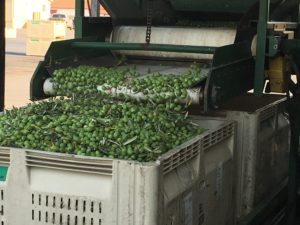 Bell-Carter's Field Department was relying on a 20-year-old home-grown system to track Growers, Orchards, Varieties, and Grower payments. Olive Growers are paid based on quantity delivered, variety, grade (size), and quality of the raw fruit.
Read More »
What Customers are saying.

"Azmera is one of the few Consulting firms I have ever worked with who actually understands and gets how agriculture works.
Azmera's knowledge of how crops move from the farm to the processor enabled Azmera to very quickly create a high-level design that met our unique needs.
With only three months before harvest Azmera was able to convert that design into a working Grower System that streamlined our operations with virtually no impact to our business or growers. With Azmera we were able to spend valuable time discussing and creating a system that met our needs rather than educating them about how the agriculture system works."
Cody McCoy, Field Manager Bell-Carter Foods
What Customers are saying.

"Azmera continues to exceed our expectations resulting in us turning to them on more than one occasion to help with various special projects.
Our first project with Azmera was during the tail end of an ERP implementation. In addition to helping with project management, process mapping and training, they were able to refocus our internal implementation team and vendor to get our project and system back on track, helping to regain the lost confidence of our employees from the back office to the customer facing tasting rooms.
Our second project was at the front end of a new Business Intelligence tool implementation to help us get off to a great start when we were lacking internal project management capacity. Azmera provided project and vendor management along with business analysis expertise and guidance and successfully trained and transitioned those responsibilities to internal resources when capacity freed up.
I would highly recommend Azmera without hesitation."
Shannon McLaren, CFO Crimson Wine Group

After growing up on a 1,000 acre wheat, sheep and cattle farm in Australia, Phil pursued a career in technology that exposed him to mining, banking and utilities industries before landing at Foster's Group in 2001.
Director of Technology Services
A Texas native, Matt is a systems analyst and technical architect with over 15 years of implementation and development experience working with clients in multiple industries to implement ERP and Supply Chain systems, web applications and  interfaces.
Ward had a 23 year career with Agilent Technologies (formerly part of Hewlett Packard) Solution and Application Management and Development before working on the grower and blend implementation at Treasury Wine Estates, with a focus on the grower pricing configuration and execution. 
Partner Organizations and Memberships